Momentum Circles
Attention: Entrepreneurs Who Are Ready to Kick It Up a Knotch
"Make the Next 3 Months The
Most Productive EVER In Your Business"
Are you tired of coming up with ideas and never implementing them? Are you ready to make the next 3 months your most productive ever?
I see it all the time -- people with great ideas who never make them happen. Months, even years pass and nothing gets done. Why? Because they either don't know where to start, don't know what to do, or get stuck and stalled.
What you need is ongoing MOMENTUM!
- Imagine never getting stalled.

- Imagine having someone to go to for on-the-fly training and support every time you hit a roadblock.
- Imaging blasting through the limiting beliefs that have held you back in the past.
MAKE THINGS HAPPEN in your Business!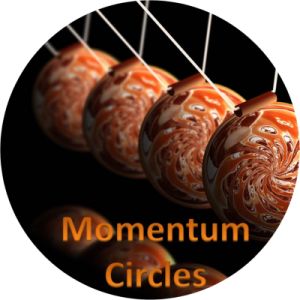 If you're ready to see REAL RESULTS,
join one of my 3-month Momentum Circles
. In this supportive, group training and mentoring environment, I help you craft a plan for your next 3-month goal and hold you accountable in a small accountability and mentoring group.
Here's How It Works

There are a maximum of 6 participants in each Momentum Circle. I meet with you individually for an initial 1-hour orientation. We'll discuss your goals for the next 3 months and help you craft a plan for implementing them. Then, twice a month you'll hop on an interactive LIVE GROUP 1-on-1 Training and Consulting Session where I help you get the know-how you need and IMPLEMENT the actions necessary to complete your goals.
Whether it's a tech question, a strategy question or whether you're stuck behind a wall of fear, I'll bring my 25 years of business and training experience and Certified SimplyHealed Energy-Moving expertise to bear on your problem. You'll blast right through it.
For example, let's say your goal over the next three months is to create a lead generator and start building your list. You and I will meet together for an initial consult about crafting a step-by-step plan and set a timeline for completing each step. After the call, you will get to work. You're bound to want assistance and feedback as you go, or perhaps you'll get stuck, or have questions about how to sharpen your results. You'll be able to bring your project to the LIVE Group 1-on-1 Training and Consulting Session and get training and feedback from me and other members of the circle. You'll be able to share your screen and show me what you're working on. Through custom hands-on training I'll teach you how to edit or fix it for you on the screen where you can learn by watching your project materialize before your eyes!
Anytime you're stuck, you'll also be able to ask me and the other members questions in the Private Facebook Mentoring Group.
Never Stay Stuck Again! Join one of my Momentum Circles Today!
Possible Projects You Could
Complete During the Next 3 Months

-
Increase Leads with a Compelling Lead Generator and a Plan to Promote It
- Craft Your Marketing Materials and Implement Them Effectively With a Day-by-Day Action Plan
-
Create or Remodel Your Web Site

- Get That Book Out of Your Head and Into Manuscript Form
-
Launch and market a book
- Repurpose your book content into content that sells
-
Get your web site up
Is This 90-day Training and Support Program for You?
This program is for you if you are...
willing to commit to attending as many of the calls live as you can. They will be recorded, but the synergy of the group is one of the things that makes this so powerful. We need you to commit to be there as much as possible.
committed to your project and seeing it through.
supportive of other people and their dreams and ideas.
willing to leave critisism of yourself and others at the door.
looking for a safe environment to share you're ideas and will honor other people's ideas with the same respect you'd like to receive for yours.
ready for ongoing mentoring and accountability and are coachable.
What Pivotal Project Has Been Sitting On Your To-Do List
For Far Too Long? Let's Get It Done!
Keep Your Momentum Going!
Join my Momentum Circles Today!
Tuition: $179/month for 3 months
(That's 3 payments of $179 billed monthly)
90-minute Sessions
12:30pm ET / 11:30am CT / 10:30am MT / 9:30am PT

March 24th (Tuesday)
April 7th (Tuesday)
April 21st (Tuesday)
May 5th (Tuesday)
May 19th (Tuesday)
June 2nd (Tuesday)

6 Spots Available

""I've had the pleasure of getting to know Marnie Pehrson over the last several years; first as members of the same Mastermind, then we (and several other women marketers) hosted a live event together. After that, I participated as an author in one of Marnie's collaborative book projects, plus she has been a speaker on several of my telesummit events.

Throughout all of those experiences, Marnie has been unfailingly warm, kind, generous, giving and extremely knowledgeable…in short, an absolute pleasure to work with…but the most amazing quality Marnie has is her ability to rapidly take an idea and put it into action.

If you are looking for an incredibly smart, successful mentor to help you get your light into the world, then look no further, because Marnie's your gal!"

Ellen Britt, Pink Coattails